Adult Classes
| | | |
| --- | --- | --- |
| Monday | | 8:00 - 9:30 pm |
| Wednesday | | 8:00 - 9:30 pm |
| Thursday | | 8:00 - 9:30 pm |
| Saturday at First Neighborhood Park (Weapons Class) | | 11:00 am - 12:00 pm |
Tuition:
$80 per month tuition
$40 one-time registration fee
Anybody interested in Aikido is welcome to observe as many classes as they like, at any time.
Students from other dojos are welcome to train with us any evening they wish for a $5 mat fee.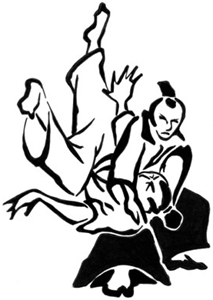 Westlake Village Aikido was founded by David Alexander in 1989. Alexander Sensei spent 10 years between 1972 and 1984 training Aikido in Iwama, Japan under Morihiro Saito Sensei. Saito Sensei was the leading authority on Aikido after training under the founder, Morihei Ueshiba, for 23 years, almost a quarter century. The Aikido training at Westlake Village Aikido follows Saito Sensei's traditional Aikido style and teaching methods.